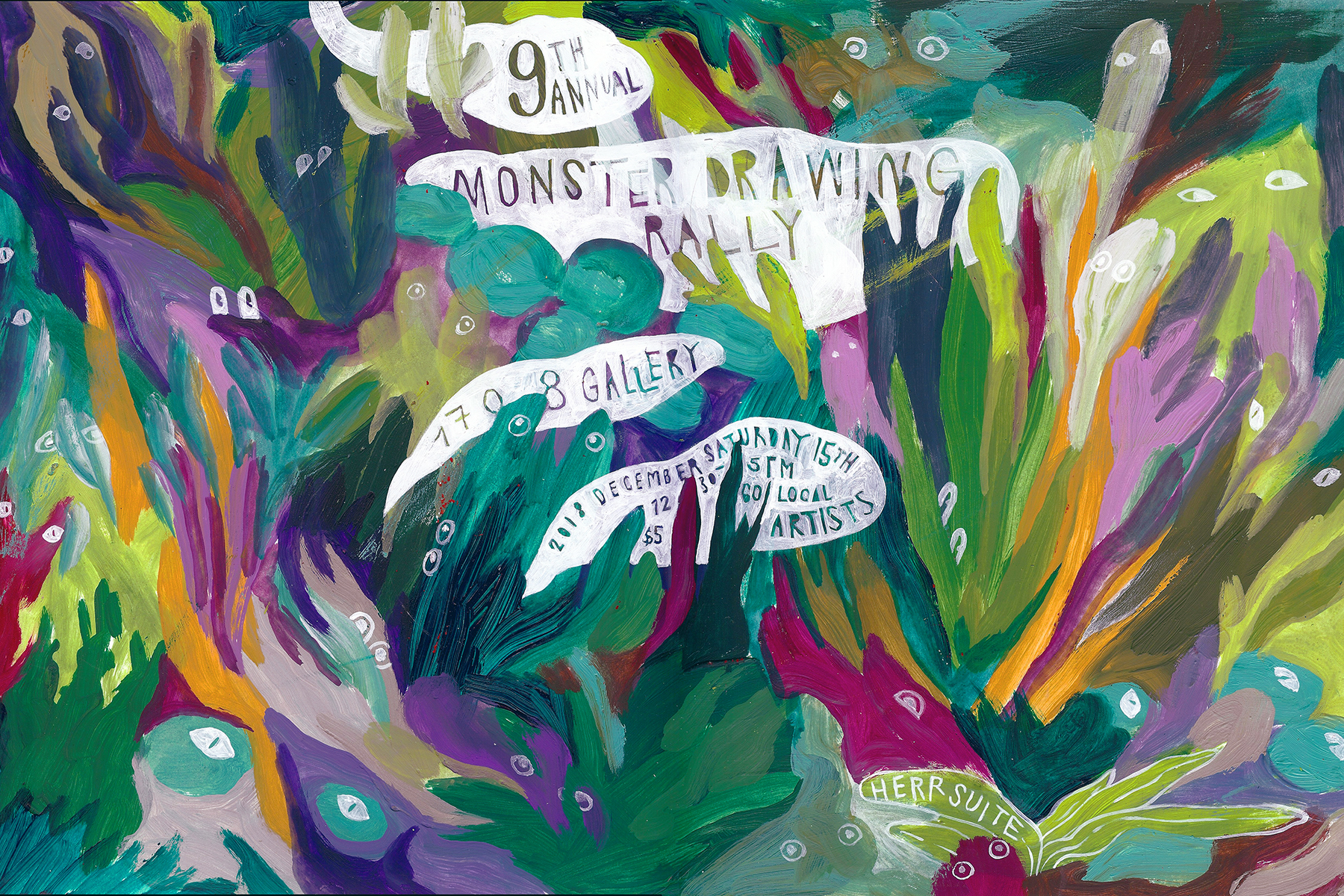 Thank you to everyone who attended Monster Drawing Rally on Saturday, December 8, 2018.
A special thanks to all the artists who participated:
Nicholas Candela, Mahari Chabwera, WonJung Choi, Mary Fleming, Peter Fraser, Carole Garmon, Josh George, Jack Glover, Jenna Guthrie, Sarah Hand, Sue Heatley, Adah Kanter, Natasha Kovacs, Nava Levenson, Wade Mickley, Lindsay Parnell, Charles Piper, Jason Quarles, Janet Scagnelli, Sayaka Suzuki, Alison Thompson, Kendra Wadsworth, Megan Zalecki, Jill Zevenbergen, Katie Baines, Shaylen Broughton, Nico Cathcart, Genesis Chapman, Tom Chenoweth, Jamie Douglas, Tiffany Glass, Brooke Inman, Erek Jones, Jonathan Lee, Harrison Moenich, Amie Oliver, Kevin Orlosky, Michael-Birch Pierce, Debbie Quick, Susannah Raine-Haddad, Ralf Schulze, Jessica Sims, Susan Singer, Renee Stramel, Nathan Tersteeg, James Thornhill, Mark Trezise, Ron Walton
THE RALLY
Originally conceived by Southern Exposure in San Francisco, Monster Drawing Rally is a live art event featuring approximately 60 artists. The event consists of 3 one-hour shifts with up to 20 artists working simultaneously each hour. Once an artist completes a drawing, it will be hung on the wall for viewing. Visitors may purchase completed works of art for $65 each.
Part performance, part art-bazaar, part party, Monster Drawing Rally offers Richmonders the rare opportunity to watch their favorite local artists at work. Monster Drawing Rally is also a fundraiser that raises general operating support for 1708 Gallery. Drawings sold during the event are a full donation to 1708 Gallery.
Please stay tuned for information about 1708 Gallery's 10th annual Monster Drawing Rally in December 2019.