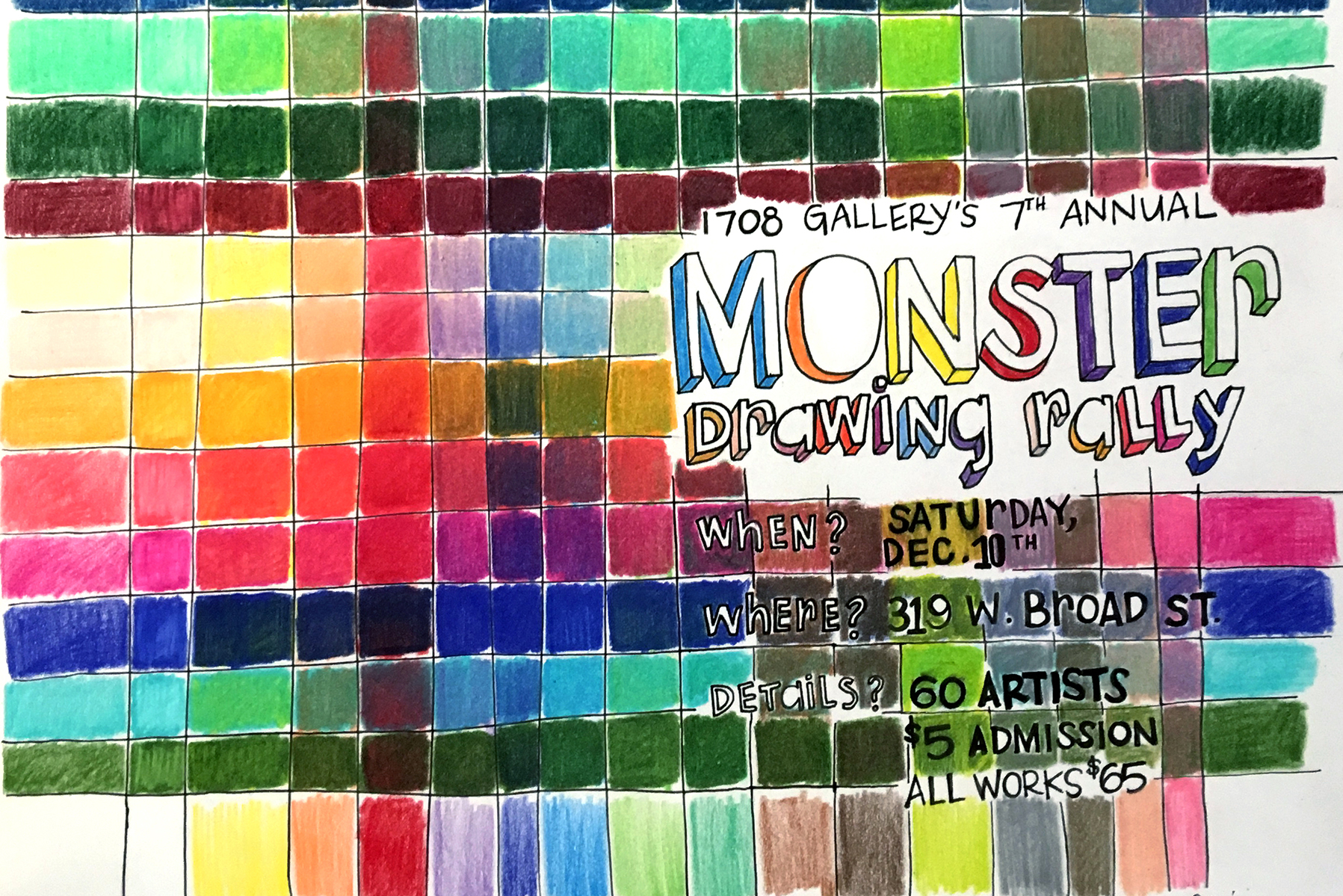 Saturday, December 10, 2016
12:30-5pm
Admission is $5. Kids are free.
The 7th Annual Monster Drawing Rally, featuring over 60 local artists, is a live art event to fundraise exhibitions and programming support for 1708 Gallery, a nonprofit space for new art founded in 1978. Part performance, part art-bazaar, part party, Monster Drawing Rally offers the Richmond community an exciting opportunity to watch their favorite artists at work.
Originally conceived by Southern Exposure in San Francisco, the event consists of 3 one-hour shifts with 20+ artists working simultaneously each hour. Once an artist completes a drawing, it is hung on the wall for viewing. Visitors may purchase completed works of art for $65 each. All funds from drawings sold during the event are a donation to 1708 Gallery.
Monster Drawing Rally is generously sponsored in part by Plaza Artist Materials.
2016 Artist Schedule:
First Shift (1:00-2:00)
Mickael Broth Tom Condon Jamie Douglas Suzanna Fields Dana Frostick Carole Garmon Hamilton Glass Mike Guyer Ashley Hawkins Wolfgang Jasper Aimee Joyaux Matthew Klimas Anthony Meloro Sarah Rebekah Bird Mizer Harrison Munich Jason Quarles Suzannah Raine-Haddad Anne Savedge Hillary Waters Blade Wynne Michael Young
Second Shift (2:10-3:10)
Clover Archer Katie Baines Gerry Bannan Betsy Bannan Shaylen Broughton Nico Cathcart Leigh Anne Chambers Genesis Chapman Mary Fleming Emily Herr Morgan Herrin Brooke Inman Douglas Orleski Kevin Orlosky Nikki Painter Michael Pierce Ralf Schulze Susan Singer Leigh Suggs Pam Sutherland Sayaka Suzuki
Third Shift (3:20-4:20)
Tom Chenoweth Jacob Eveland Pam Fox Peter Fraser Mary Anne Hensley Kris Iden Matt Lively Lynn Murphy Chris Norris Michael-Birch Pierce Charles Piper Debbie Quick Travis Robertson Diego Sanchez Mary Scurlock Jon Sheridan Gordon Stettinius Nathan Tersteeg Roberto Ventura Megan Zalecki Jill Zevenbergen
Join us for this always unforgettable art celebration!