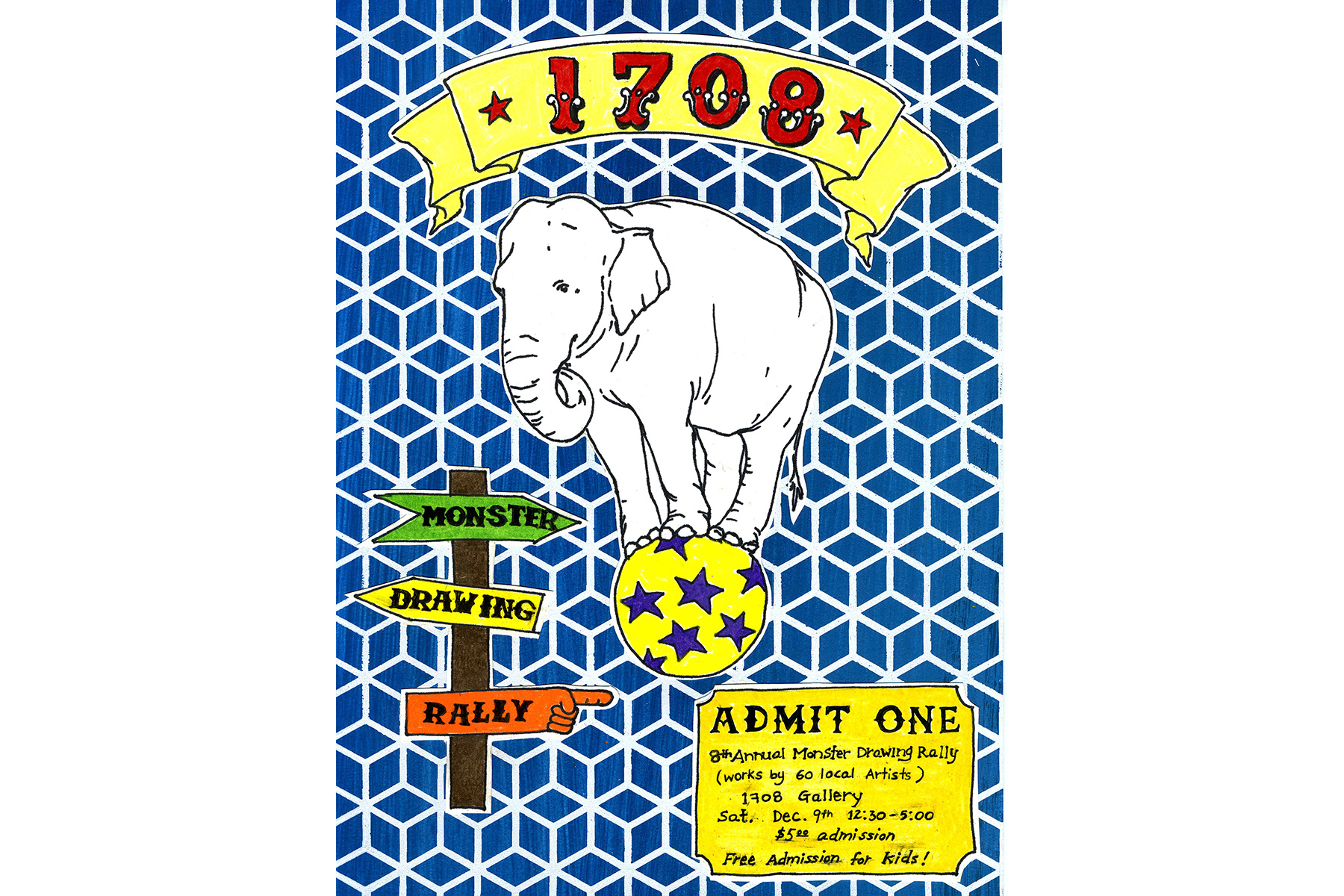 Saturday, December 9, 2017
12:30-5pm
Admission is $5. Kids are free.
The 8th Annual Monster Drawing Rally, featuring over 60 local artists, is a live art event to fundraise exhibitions and programming support for 1708 Gallery, a nonprofit space for new art founded in 1978. Part performance, part art-bazaar, part party, Monster Drawing Rally offers the Richmond community an exciting opportunity to watch their favorite artists at work.
Originally conceived by Southern Exposure in San Francisco, the event consists of 3 one-hour shifts with 20+ artists working simultaneously each hour. Once an artist completes a drawing, it is hung on the wall for viewing. Visitors may purchase completed works of art for $65 each. All funds from drawings sold during the event are a donation to 1708 Gallery.
2017 Artist Schedule
First Shift (1:00-2:00)
Katie Baines, Leigh Anne Chambers, Suzannah Fields, Carole Garmon, Mary Anne Hensley, Morgan Herrin, Erek Jones, Matt Klimas, Anthony Meloro, Sarah Rebekah Byrd Mizer, Harrison Moenich, Valerie Molnar, Amie Oliver, Nikki Painter, Charles Piper, Jason Quarles, Charlotte Rodenburg, Anne Savedge, Amy Smith, Sayaka Suzuki, Kendra Wadsworth
Second Shift (2:10-3:10)
Betsy Bannan, Gerry Bannan, Shaylen Broughton, Nico Cathcart, Genesis Chapman, Peter Fraser, William Godwin, Jenna Guthrie, Susannah Haddad, Sarah Hand, Emily Herr, Brooke Inman, Adah Kanter, Amelia Langford, Jonathan Lee, Milk River Arts, Andrew Moore, Kevin Orlosky, Michael Pierce, Ralf Schulze, Susan Singer, Alison Thompson
Third Shift (3:20-4:20)
Ross Browne,
Amy Chan
, Tom Chenoweth,
Jamie Douglas
, Hamilton Glass,
Jesse Goldstein
, Aimee Joyaux,
Matt Lively
, Chris Mahonski,
David More
, Michael-Birch Pierce,
Debbie Quick
, Travis Robertson,
Josh Rodenburg
, Diego Sanchez,
Mary Scurlock
, Jon Sheridan,
Cameron Spratley
, Pam Sutherland,
Nathan Tersteeg
, and Megan Zalecki
Join us for this always unforgettable art celebration!