Andrea Donnelly: Geologic
August 25 – October 8, 2023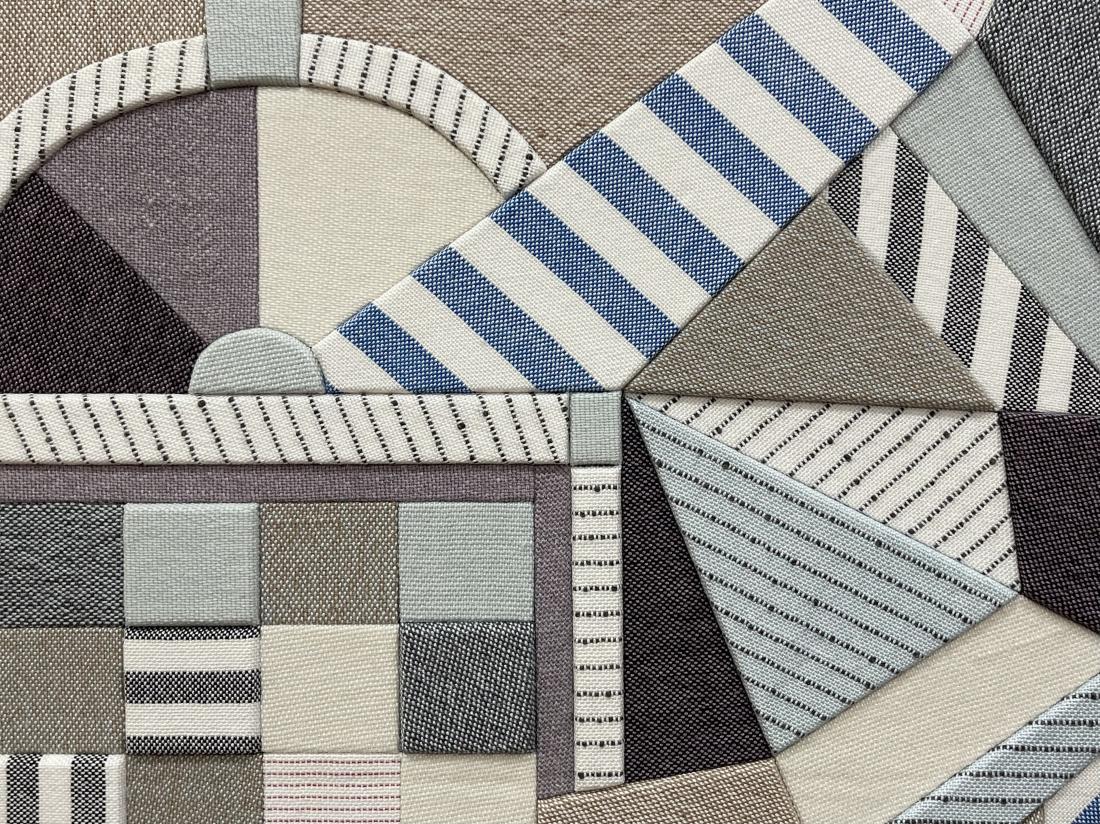 Opening Reception: Friday, August 25, 6-8 PM
1708 Gallery is pleased to present Geologic, an installation by conceptual textile artist Andrea Donnelly.
Donnelly presents her work in Geologic as the physical artifacts of an imagined alternative geologic timeline. Here a small sliver of the story of a parallel present is told through a distant future discovery of curious objects that shimmer between their tangible materiality and layers of imaginative world-building and metaphor. Through the physicality of her process as a weaver, Andrea inhabits the role of both architect of this world, and its solitary explorer.
Please come in.
This is a space of alternative geologic time. The Earth holds her stewardship and we, the human animal, have always existed without malice and in balance. Long ago we constructed our colonies and nests in many lovely and curious languages, the symbols of our structures communicating need and function and the poetry of our existence in space and time. We were decorative, ornamental in our necessity, as luxurious as flowers. Long gone now, we have become something else. The intelligent Earth has reclaimed us, saved some things for herself as she sorted through our relics, adapted our symbol languages to suit her elemental needs. She kept what was useful, she modified, she mimicked. Grew slowly over us, a gentle architect with the wisdom of a glacier, building her crystalline city. What remains of this long-ago version of ourselves is now deep in the geologic table. It comes to us in enigmatic shards thrust up occasionally in the shifting and restless flexing of our Mother. It seems (how proud we feel) that in the journey of the human animal, it was not only us learning and taking from the Earth…the Earth also received and learned from us.
By imbedding imagery within woven structures and unweaving and reweaving painted cloth, Donnelly brings attention to overlooked details in her familiar and mysterious materials. Each piece — whether an intimate sketch or a monumental hanging object — builds on the physical connection all humans have with cloth and invites the viewer to engage in the dialog and discover a personal interpretation of her pattern language.
Andrea Donnelly received an MFA in Fiber from Virginia Commonwealth University and earned dual bachelor's degrees in Art and Design and Psychology from North Carolina State University. She has held solo exhibitions at the North Carolina Museum of Art, Visual Arts Center of Richmond, Reynolds Gallery, and Quirk Gallery, among others. Select group exhibitions include Virginia Commonwealth University's Institute for Contemporary Art, Workhouse Arts Center, Muskegon Museum of Art, Textile Arts Center, and Museum Rijswijk.
Donnelly has received grants and awards from the Ruth and Harold Chenven Foundation, the Elizabeth Firestone Graham Foundation, CultureWorks, Surface Design Association, and the Center for Craft, Creativity & Design's Windgate Fellowship Project Grant. She is a recipient of a Theresa Pollak Prize for Excellence in the Arts and a Brandford/Elliot Award for Excellence in Fiber Arts. Her work is included in collections such as the North Carolina Museum of Art, the Federal Reserve Bank of Richmond, Capital One, Dominion Energy, and Markel Corporation.
Special thanks to Marsha and Jay Olander, Reynolds Gallery, and Elizabeth and JD Wright for their support of Geologic.